COCKAPOO PUPPIES FOR SALE
E-mail - Cockapoos@tds.net - for more info

Our Appreciation goes out to those who have made us their
#1 Cockapoo Breeder of outstanding quality Cockapoo Puppies !!
.All bred for excellent health, stunning beauty and gentle loving temperament

Wisconsin Cockapoo Puppies for Sale- Shipping available
An easy drive from Illinois, Minnesota, Iowa and Michigan
We have such cute cockapoo puppies that grow to just gorgeous adult cockapoos

Click here for * Cockapoo Puppies For Sale *
From " Cockapoo of Excellence "
We have beautiful, happy & healthy Cockapoo Puppies for adoption for your family!
Our Goal is to produce the perfect Cockapoo - We limit the size of our business to assure the proper attention and care needed to raise the highest quality Cockapoo Puppies for sale available anywhere!

We have the perfect Cockapoo for you and yours - Our Cockapoo Puppies are unsurpassed!!

View our images for cockapoo puppies below of our past puppies now with their new families, some still young and some adult cockapoos. We have various colors available including red, apricot, buff, chocolate, sable, party and merle colors from our cockapoo puppies to choose from throughout the year.

This is one of our beautiful Cockapoo Puppies now name "Petey Pie", he now lives in Annandale, NJ


Hi Mike,
We wanted to give you an update on our puppy and thank you again for raising such a wonderful cockapoo! Pete (also called Petey Pie) has brought so much joy to your family! He has a great personality, is very eager to please and super smart! After only two weeks he already knows come, sit, lie down, leave it and paw and is currently working on rollover and go to spot/crate and drop it. Crate training was a breeze, potty training is in progress. He is a such a people magnet. Wherever we go, people stop and can't get over how cute he is.
Thank you so much again, it was a pleasure working with you!

Kind regards,
Silke Wiegand

---

Another photo of Pete, he is just such a cute little Cockapoo Puppy, he could not be a happier puppy.


We appreciate the photos of Petey Pie and it is exciting for us to display them on our site, he is a sweet heart and it was more than a pleasure having his new family make one of our Cockapoo puppies part of their life.


---
Bon Bon, one of our Cockapoo puppies
living in Wisconsin not too far from here.




She's waiting for the kids to get off the bus. This is her first birthday, March 1st, 2013
We love her to bits! She has great energy and very affectionate.

---

This is "Opie", one of our chocolate merle Cockapoo puppies - She now lives in New York, New York.


Cynthia who now owns Opie called on the phone and was so overwhelmed with excitement she could hardly say how happy she is with her little girl in every way there could be. We greatly appreciate being able to give her this happiness.


---
Bogey below, one of our Cockapoo Puppies now at home.


Mike,
I just wanted to show you a shot of Bogey Rosenthal. I plan to take some
nice pictures of our kids with him this week! We, all, absolutely love him.
He is a fabulous puppy and so loving, cuddly and sweet natured. He sleeps
so well and late in the a.m. which we are thrilled about. I will forward
some more outdoors shots soon! Hope you are all well. I mentioned getting
a second pup to my husband tonight...
Thank you


---

Another picture of Bogey, he is surly enjoying his first winter outdoors, as you can see our Cockapoos are hearty outdoor players but still excellent indoors.


Mike,
This is Bogey today out in the snow. He is an absolutely fabulous puppy.
He is so cuddly and well behaved. We are all enjoying him so much.
Thank you,
Lauren Rosenthal

---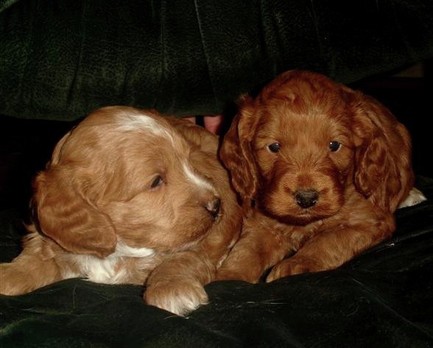 We raise top quality, first generation Cockapoos in the perfect environment of central Wisconsin. All Cockapoo Puppies come from AKC registered backgrounds that are of excellent, healthy bloodlines. Our parent dogs have a perfect living condition, with indoor heated & cooled comfort and outdoor access always; having over 2 acres of playground and companionship to fully exercise and enjoy.

---
* We have been a proud member of the American Cockapoo Club since they were established *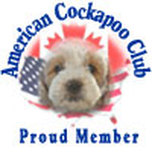 Our puppies are ACC registered and our parent dogs AKC registered, we are proud to say that our pups have made many families happy and that some our beautiful pups were purchased by "Sugar & Spice Cockapoos", the founders of the "American Cockapoo Club" for the breeding some of their outstanding second generation puppies they have made available to many families making them so very happy.
For more info about Cockapoos please visit
http://www.cockapoocrazy.com/
---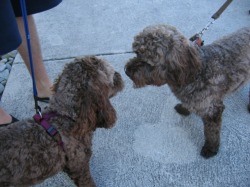 Our Cockapoo puppies are bred for health, beauty and outstanding temperament from a Cockapoo breeder of Excellence, making them the perfect family pet! All Cockapoo puppies come with a lifetime genetic health guarantee with a replacement pup or full refund if a health issue would occur. Our Cockapoo puppies are the best of the best and satisfaction is guaranteed. We have been breeding quality Cockapoos since 1997 and you will find none better. References available along with photos of prior Cockapoo puppies and their happy families.

---
2012 Christmas Cockapoo Puppy below


Hi Mike-
Wanted to send you a quick note to wish you a Merry Christmas! Clara is doing GREAT and we couldn't be happier. She is such a great puppy and is already sitting, shaking, fetching and returning, is indoor and outdoor potty trained and sleeps through the night! We couldn't be happier and wanted to send you some pictures (See attached). Thanks again and hope you enjoy the pictures!
Josh


---

Another one of our 2012 Christmas Cockapoo Puppies


Hi Mike,
We just wanted to check in with you. Izzy is adjusting amazingly. It is really going much better than we expected for a puppy. She is so much fun and so lovable Izzy adores us and the children. She is eating well and doing very well on the potty training. She is just the sweetest girl and we are so thrilled to have her.
Thanks, Melissa and Mike Giametta


---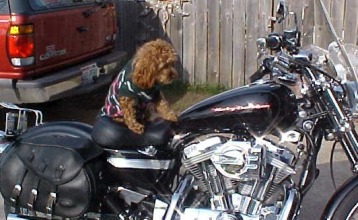 Shipping available and visits welcome with an appointment. We offer local delivery within 150 miles at times, potty training started and full potty training along with obedience training offered on occasion. Micro-chip also available. Let us be your choice of
Cockapoo Breeders
and we will guarantee you happiness with your new
cockapoo puppy
.
E-mail
Cockapoo-Puppies@hughes.net
for more info. or call
715-445-5894
Sonya or Michael will be glad to assist you promptly and answer any or all questions you may have.
---
*Sophie is one of our Cockapoo beauties below along with a few words from her new owners *


Hello from Philadelphia! Upon receiving Sophie she's done nothing but bring joy to our lives and smiles to our faces. She is the sweetest/most adorable dog, kind to everyone and loves attention! She has been so well behaved and we have not one complaint. Every new dog/family pet she met, she has only tried to play and cuddle with them. They are all amazed on how smart she is and that she can already do puppy tricks! Thank you so much for all your help and raising such wonderful puppies, it truly shows and I think we have everyone we know wanting a cockapoo! Best Wishes, Mike and Debbie
"Sophie" "Sophie & her proud family"

Another one of our precious Cockapoos also name "Sophie", she is a one year old beauty now.


Hi Mike and Sonya, We just wanted to send you a picture of Sophie. She is 1 year old today. We love her dearly. Thank you!

Knutzen Family Brookings, SD

---

This is "Thunder", now a FonDuLac, Wi. Cockapoo.


Hi, Mike, As promised, here is a quick update on and photo of Thunder, the cockapoo I got from you in July. What a delightful puppy! He is so calm, friendly, and playful. He is exceptionally good with children and with other dogs. I've taken him to the Dog Park twice and he behaves so well there. I've also introduced him to my friends' dogs, and he is confident and assertive in his play. He went to the Dog Doctor on Friday for a puppy check up and some shots. He had a clean bill of health! Today was his first haircut to remove some fur growing over his eyes. He was well behaved in both places. So far he knows Sit, Stay, Down, Come, Go-Get-It, and Shake.

---
.Cockapoos in general are well natured, excellent family pets and we breed exceptional Cockapoo Puppies. Our Cockapoos from the past are good examples of Cockapoos for the future. Extraordinary health, beauty and temperament is our goal and we continue to achieve this and more!All of our pups are well socialized both indoors and out as you can see,they get all positive attention making them just the best family pet you could find.


LACEY - Cockapoo beauty


Lacey now lives in Chicago, Illinois and is quite a perfect COCKAPOO,she is one of our COCKAPOO PUPPIES adopted and such a beauty.She is only one of our COCKAPOOS that have made many families very happy,please contact us if this breed is your desire for the best pet for your family from the best COCKAPOO BREEDER you will find.

---

NEWTON - Making NEW YEARS Special
One of our beautiful Cockapoo Puppies

Hi Sonya, Happy new year! Newton is doing wonderful and has brought so much joy to our lives! He is certainly part of the family and has so much love to give! He is quite the cuddler and loves to play, he is very determined and curious and is learning new things every day. He is truly my little companion (he even comes to the office with me and loves to meet all of the other dogs and people) and never fails to make us smile. He also attracts countless admirers as everywhere we go people come up and fawn over him. I have attached a few pictures. We are very blessed and thankful. Take care, Kallie


---

Little "Pippy" below,a new addition to our family & one of our gorgeous cockapoo puppies to be living with us & "Star" & "Raine's" new playmate.

---

This little blue merle beauty is "Raine" now 7 months old and Sonya's 2nd cockapoo and "Star's best friend.
SO, SO SWEET &
SO, SO LOVABLE

Raine,Star and Pippy are all part of our pleasure and add fun to raising our Cockapoo Puppies,they assist quite a bit in raising and training all of our puppies and make what is already fun more so.We love our Cockapoos and our business.

---

Our Cockapoo Puppies are first generation beauties with very little or no shedding and very loyal qualities. Excellent health is another important quality with the Cockapoo Puppies we raise and they should give you more than 20 years of happiness without a doubt!

IZZY still young but learning to swim!!!
Sweet little Cockapoo girl who is keeping her family so very happy and a happy sweet Cockapoo she is!

Our cockapoos are fun loving,they enjoy playing and also are a ball of fun at the beach loving water.Cockapoo puppies are a great choice for the family and we have some loving beauties.

---

BUDDY - Making the holidays special
Another gorgeous Cockapoo to be!

Hey Michael!

I didn't intend to take this long to update you on "Leo" (we named him "Buddy" because that's what we kept calling him, so it just stuck!) The surprise went off without a hitch and my husband had NO idea! Buddy is full of energy and personality and we are already so in love with him. He does well in the crate at night and has from the beginning...that was such a relief since we live in an apartment complex. We are having so much fun teaching him new things and showing him how fun the world around him can be! He will be finished with his shots as of next Friday. Thank you again for helping me pull off the surprise. You were so easy to communicate with and that really helped the whole process for someone like me who was nervous about getting a puppy in the first place! I hope you had a Merry Christmas and that 2011 is off to a great start for you and your family! Sincerely, Jessica Hughes

---

*STAR *
One of our Cockapoo Beauties

Meet " STAR " She is a beauty and Sonya's pride and joy!She is just 4 years old now and has brought much happiness to the family,a perfect cockapoo she is and her love for everyone is quite apparent.She makes raising our Cockapoos even more enjoyable!
Below is *Star* just having another relaxing day.

---
Visits by "APPOINTMENT" only!
Call 715-445-5894 or e-mail Cockapoos@tds.net