Below you will view comments and Cockapoo pictures from prior customers who have purchased our Wisconsin Cockapoo Puppies in the past, their happiness has made our hard work producing our Cockapoo beauties well worth it! * We love our Cockapoo Puppies *


Petey Pie, one of our Cockapoo Puppies now living in Annandale, NJ - Such a cutie he is and so happy.


Hi Mike,
We wanted to give you an update on our puppy and thank you again for raising such a wonderful cockapoo! Pete (also called Petey Pie) has brought so much joy to your family! He has a great personality, is very eager to please and super smart! After only two weeks he already knows come, sit, lie down, leave it and paw and is currently working on rollover and go to spot/crate and drop it. Crate training was a breeze, potty training is in progress. He is a such a people magnet. Wherever we go, people stop and can't get over how cute he is.
Thank you so much again, it was a pleasure working with you!
Kind regards,
Silke Wiegand

---
One of our Cockapoo Puppies 10 weeks old
in photo below now living in San Antonio, TX.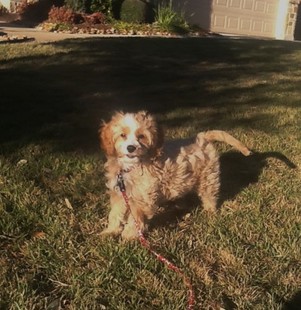 Hi Mike!

Lily is now up to 7 pds 4 ozs and had her 3rd set of shots plus Rabies yesterday. Everyone at the vet is in love with her both in how adorable she is and her disposition. My vet hopes I never decide to trim her coat. Of coarse my groomer for my other Cockapoo works at the vet and she also met Lily yesterday. I have never had a puppy that was this easy to bring into the house. She has not had a single accident in the house. Amazing! She and Daisy love running in the backyard and playing tug-a-war with each other. All picks of play time are just a blur - they move too fast. Again, thank you for such an exceptional puppy!

Warmest Regards,
Luann

---
Below is an update on Lily at just about 6 months old,
such a beautiful Cockapoo she has grown to.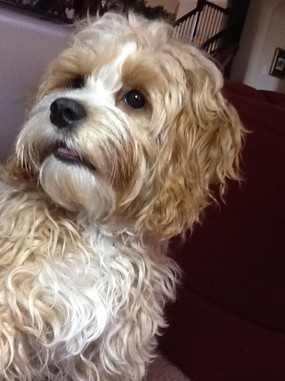 Hi Mike,

Wanted you to have a recent pic of Lily. She is an absolute joy and wonderful addition to our family! She is now taller than our 6-year-old Cockapoo, Daisy, and they love playing together and running in the backyard. She also loves playing with one of our 12-year-old cats. Awesome dog!!

Luann


---
Mike & Sonya, here are photos of Sparkels a super dog now 4 years old & Jo Jo is a FABULOUS puppy --coming along big time --14 pounds of lovable puppy at 5 months old. You breed beautiful Cockapoos!
Best
Marilyn Bach

Hi Mike, we purchased "Kent" from you about 5 years ago. He is a phenomenal dog and flies with us on flights between Great Barrington, MA and Miami Beach, FL! The stewardesses love him! He is a complete delight and has added so much to our lives. We went 28 years without having a dog and I cannot imagine living without one again!
PEACHES


What a awesome little girl. Very verbal with sounds that make us laugh. Loves her mom and dad and is never without 1 of us for more than a couple hours. Trainings is going very well. Very very smart little girl. She loves to chew sticks. She has dozens of toys but those sticks with the bark! Yum Yum I quess. She just had her 3rd hair cut and teeth were brushed. She has been spaded and was a real trooper. She gets a walk and lots of play time daily. Belly rubs are also required by her often. And thank you for a perfect little girl. I check your site often. You have some awesome pups. -Steve & Kathy


Hi Mike. We purchased a cockapoo that we Named, Lola, last year. She will be one on the 29th of May. Wanted to let you know she is doing great and we love her dearly. Attaching a picture of her. Thanks again! Lynn Shenker

Lola


---

Oscar, one of beauties below!


Mike - wanted to give you an update on Oscar! (the apricot boy with light colored eyes who came into my life on 4/29) He's doing great! Growing and fitting right into his new home. Now that he's gotten his 2nd shot, he's even making friends! Pic attached. Love him much!


---

ANNIE

Annie is one of our previous cockapoo puppies that has become an award winner! She won the South Wood County Humane Society 2010 Paw Prints calendar contest and was not only chosen to be featured for March but also to grace the cover! She has also won WEtv's Picture Perfect Pet 5 Contest !


********************************************


Hello from Philadelphia! Upon receiving Sophie she's done nothing but bring joy to our lives and smiles to our faces. She is the sweetest/most adorable dog, kind to everyone and loves attention! She has been so well behaved and we have not one complaint. Every new dog/family pet she met, she has only tried to play and cuddle with them. They are all amazed on how smart she is and that she can already do puppy tricks! Thank you so much for all your help and raising such wonderful puppies, it truly shows and I think we have everyone we know wanting a cockapoo! Best Wishes, Mike and Debbie

************************
Sophie

Below is "Bear" one of our Cockapoo Puppies at 9 weeks of age when he just arrived at his new home


Hi Mike,
Yes, Bear is completely settled and such a sweet little puppy and very busy :) Thank you again.
Sorry to be getting back to you so late; we have been in the middle of moving back to GA. I just want to say thank you again for all you did to get the puppies flights together. I know I am very much appreciative. Hope the holidays treated you well and Happy New Year!
Sincerely,
Shaun





---

Another Sophie and happy Cockapoo Puppy owner


Hi Mike and Sonya,
We just wanted to send you a picture of Sophie. She is 1 year old today.
We love her dearly. Thank you!

Knutzen Family Brookings, SD
TESSA

Tessa has gotten used to us already. She is super smart and very friendly with my daughter. We LOVE Her! -Lidia

---

BINGO BLAIR


At 1 year old, he is doing great!!...He shines in two areas. The first is a loving companion and a sweet lap dog. He is always with me wherever I may be in the house. He rides in the car next to me on the seat. He really shines when the grandchildren are around. He absolutely loves kids. He is gentle and responds to their "training" commands. His tail wags the hardest when kids are around. He is just what I wanted, perfect size, great disposition, does not shed and great with kids. Needless to say we love him. Thanks again for breeding a great dog. -Carol


---
BRITTANY (Above at different ages)
She is terrific. You did a great job raising her! She knows to go out side in the grass both ways... I really enjoyed my trip to meet you and get Brittany, see her parents and a few of her brothers and sisters. One of my best vacations in a long time. She is my family now and my parents love her too. She came in the house, I put her bowls down on her mat, a special place for her, and she took a mouthful of food and then got some water and then later came back two times. I already lover her and will do any and everything for her. We will stay in touch and I will send you pics as she grows.
-Harry
MANDY

I can't express how much we love our little Mandy. She is sleeping well at night..actually slept 8 hrs through last night. Hasn't had an accident in the house at all. She has learned quickly to go outside with lots of praise and a small treat. She is such a cuddler. Her personality is coming out and she is hilarious when it's play time....yes, she is supplied with many stimulating toys of course. She is getting along with the cats so far. They are all a little apprehensive and curious so far. I'm sure time will change this. We want to thank you so much for your helping hand in producing such a special addition to our family. -Lori


---

AMBER

She is just wonderful, so loving. She seems to have adjusted well already. She follows me everywhere. Makes it real easy for me. She is eating and sleeping good too. We are so happy with her. We are so pleased with her and love her so much. -Cari


---
JAMIE
Thank you Mike for breeding such a wonderful dog! He is super sweet and sooooo smart! We are having so much fun playing with him. He is such an affectionate dog and already knows sit-stay. He sleeps through the night and is housed trained. -Jim & Cara


LUCKY CHARM
My daughter bought a cockapoo from you in October of 2005 and WE LOVE HIM SO MUCH. HE IS AWESOME!!!!!!!!!!!!!!!!! PERFET PET!!!!!!!!!!!!!!!!!!!
-Jeanie

LUCY

Hi Mike,
I wanted to give you an update on Lucy. She is doing so well and has become such an important part of our family.

She is happy and growing everyday! Lucy has already brought such joy into our lives in the short time we have had her. She is absolutely beautiful! She is smart and loving and full of energy! She makes us smile everyday!

Regards,
Carol Lauria


---

TOBY

He is now 1 year old, and we simply are in love with him. He is smart, quick, and full of the devil. Toby has been a terrific addition to our family.
-Lynn


---

WALRUS

He has a wonderful personality and learns with ease.
-Arthur


---

ZOE

Hi Mike and Sonya,

Just wanted to finally send a picture of Zoe. She's absolutely the best
little girl we could have wished for. So smart, playful, funny, snuggly,
and cute! We absolutely love her.

She has already learned to sit, stay, and shake. She potty trained very
easily! She loves playing fetch, taking walks, playing with her toys, and
chasing bubbles! After all her daytime activity, she loves to settle down
for snuggles and belly rubs at night and sleeps great!.

Thanks again for this perfect addition to our family.
Jenni, Brett, Ella, Olivia DeFever


---
AMBER & LACEY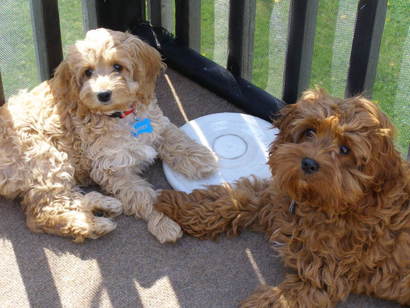 Hi Mike,



I just wanted to update you on Amber and Lacey. (Amber is the red one and Lacey the buff). They both have adjusted well and are best friends. Both are perfect and healthy and obey basic commands. In fact they do their commands by hand gestures as well. Apparently, I talk with my hands, and they learned this on their own. They are both very intelligent. I am enclosing some pictures. Their coats turned out just beautiful. We truly love them both. Thank you so much Mike. Cari & Andy Abraham


---
Izzy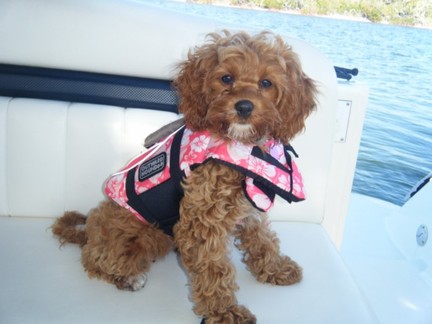 Hi Mike,

I thought you might like to know that your beautiful "pixie" aka Izzy has been more than I could have ever expected in a new puppy.She traveled down to Florida with us a week after we picked her up. Housebreaking has been a snap. Training is easy. She learns very quickly. We live in a community that is very dog friendly and many of my neighbors have dogs. So, Izzy gets a lot of social activity. It's hard to take a walk, because everybody wants to know what kind of dog she is and pet her. She loves attention! I have given several people the name of your website. We will stay here until the first part of May, then back to Wisconsin where she can play with her half sister, Zoey. You must have some good parents there, because you sure turn out great puppies! Mary Garrow

---
BENNIE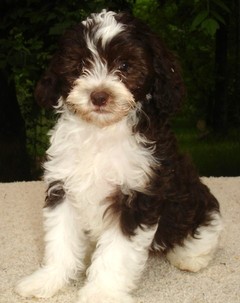 Just wanted to give you a quick update on Bennie. He is the best little puppy. He has not gone to the bathroom in my house once. I take him out all the time and every time he goes. He also sleeps through the night. Bennie and my son are 2 peas in a pod. They do everything together. He fits into my family so good. Thank you so much, he is more than I ever asked for. Mandy

---