​​ Cockapoo Breeder of F1, F2, and F1B Cockapoos.
​We have Cockapoo Puppies for sale throughout the year to allow families to plan ahead.​
​We will also have miniature poodle puppies for sale soon!
​​Our puppies are all bred for excellent health, sweet loving temperament, and stunning beauty,.
​ Pickup, delivery, and shipping available. Up to date health care and health guarantee included.
* Cockapoo of Excellence *
​One of the best Cockapoo Breeders to be found anywhere!
​We have Puppies ready for new homes NOW!
Winter puppies are available to reserve.
​* We are now taking deposits for 2023 puppies *
Visit our " Cockapoo Puppies For Sale " page for puppies available.
I'd love to chat with you!
Email
Cockapoos@tds.net
or text 920-903-6677 with any questions.
**Please check your spam folder**
​
Visit our " About Our Cockapoos " page for important info about choosing the right puppy food to start your new addition on and continue into adulthood, this will avoid high & low protein health issues. ​
​View the images below of our past puppies, some still young and some adult cockapoos. We have various colors available including red, apricot, buff, chocolate, sable, party, and merle colors to choose from throughout the year.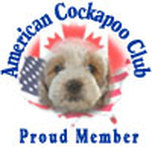 Our puppies are ACC reg. and our parent dogs AKC reg.
We are proud that our pups have made many families happy and that we are members of the "American Cockapoo Club"

---
Felix is one of our handsome pups born December 20, 2016 with the most wonderful, loving personality! He has moved from South Florida to South Carolina with his wonderful family!

LACEY

Lacey now lives in Chicago and is quite a perfect COCKAPOO. She is one of our COCKAPOO PUPPIES adopted that has made a family very happy, such a beauty she is. Please contact us if this breed is your desire for the best for your family from the best COCKAPOO BREEDER you will find.

---

* STAR *


Meet " STAR " She is a beauty and Sonya's pride and joy! She is 16 years old now and has brought much happiness to the family and her love for everyone is quite apparent. She makes raising our puppies even more enjoyable!
​



---
Visits by "APPOINTMENT" only!

​Email Cockapoos@tds.net
**​Please check your spam folder**

Call/text 920-903-6677

Landline 715-445-2910

​" Cockapoo of Excellence "
N8790 Redsand Rd - Iola, Wi.54945

DATCP Lic # 267969-DS

Click here > Get Directions